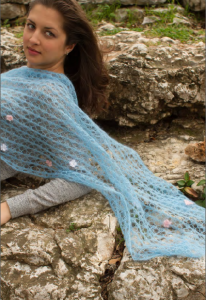 Ophelia's Scarf of Watery Death
This scarf is probably the least practical and most beautiful thing we've ever designed—not unlike Ophelia herself. The pattern is meant to mimic the river with delicate flowers floating in it. This look is helped by using lace-weight mohair which gives the finished piece an ethereal feeling. We added tiny seed beads (clear with a silver lining) at random intervals by using a 0.75mm crochet hook during the knitting process to give it the illusion of sun-glints on the water. It's kind of a tedious addition, but so worth it.
Designers: Cassandra Deavers and Alex Aulisi
Size: One size Finished
Measurements: 17″ / 43cm wide × 60″ / 152.5cm long
Gauge: 1 patt rep = approx 1″ / 2.5cm square, after blocking
Gauge is not critical in this pattern, but a different gauge will affect yardage and size of finished item.