The Bohus studio's designs—upon which this gauntlet is patterned—are famous for their intricate geometry for good reason. And in this pattern you and your powdered drink mix(1) determine the color variation. If your color choices mirror the design shown here, then as your knitting grows you will find the subtle difference in blues to be quite lovely. The occasional splash of red mirrors both the rust that appears in some icebergs in the far north and the temper of Nora that finally flares at the end of Ibsen's A Doll's House.
Instructions for dying are included
Designer: Heather Ordover
Finished Measurements:
Circumference: 8 inches
Length: 6 ½ + inches (possibly longer after whapping)
Materials:
[MC] Knit Picks Bare [fiber content: superwash wool, nylon; fingering weight; 462 yd per 100g skein; 13 WPI]; color: natural; 1 skein re-wrapped into smaller (.5 oz, 10g) skeins for dying.
There will be yarn left over, examine the chart to determine which colors you might not need so much of (vermilion) and which you might need quite a bit of (some of the blues)
1 set(s) US #3/3.25 mm double-point needles
(1) the permanent acid dye we often call "Kool Aid."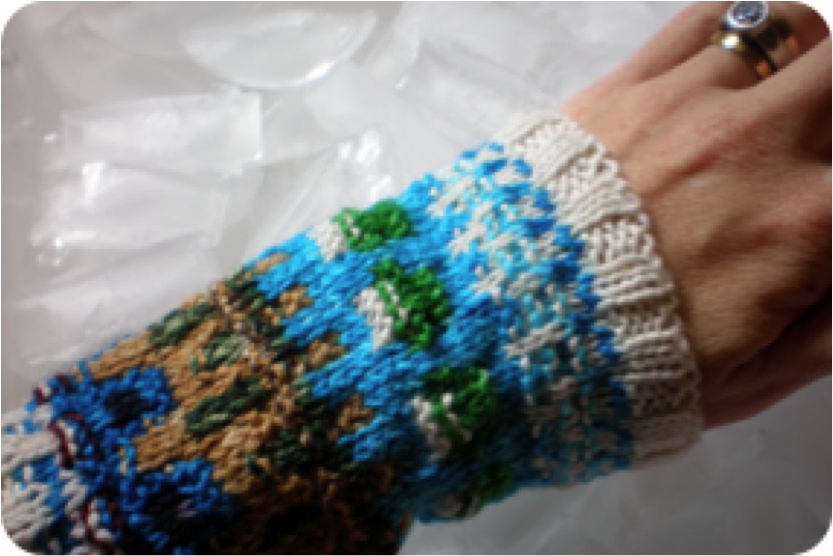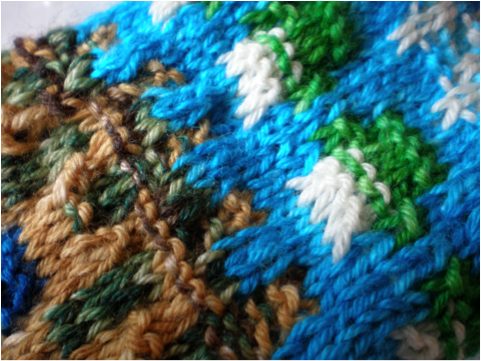 Kool Aid Dying for Nora's Glacial Gauntlet
Rest of the tutorial coming, pending a fix to the photo upload process!