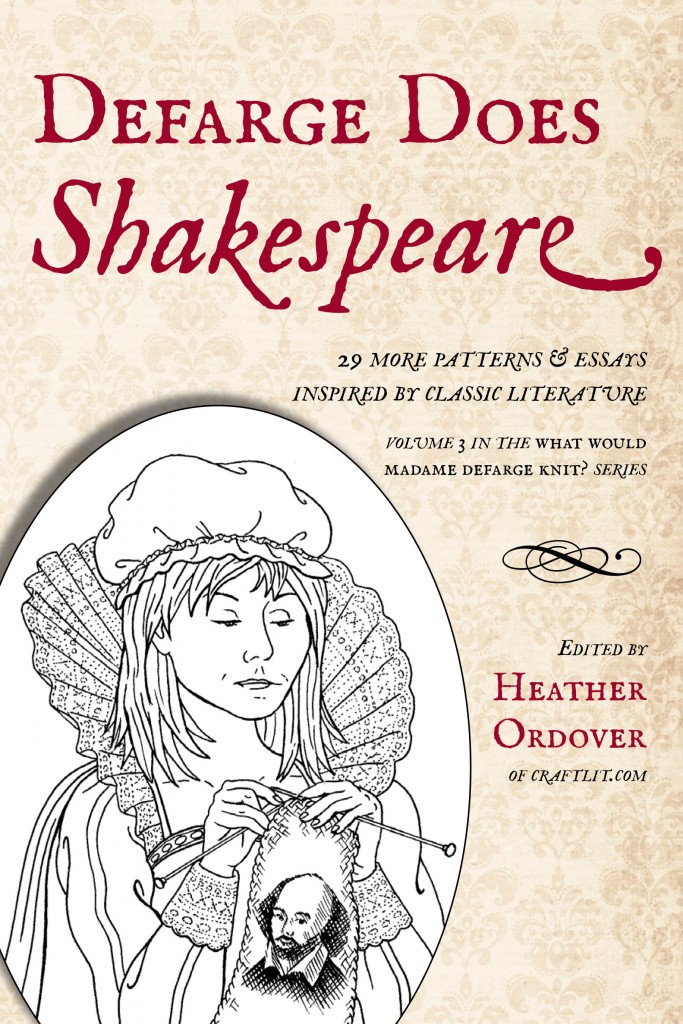 Defarge Does Shakespeare is the third book in the What Would Madame Defarge Knit? series.It's more than just a pattern book — it's a treasure of links, essays, and designs to entertain your hands AND your mind. In its 200+ pages, you'll find 29 knitting patterns and essays designed to delight your inner bibliophile.
Join the mailing list for exclusive news about our next book's release!
* * *
She's back—and this time she's hot for Shakespeare!
Madame Thérèse Defarge, the fearsome tricoteuse from  A Tale of Two Cities, worked the names of the condemned into her knitting as she sat near the guillotines—a knitter for the dead.
As in the beloved first two volumes in this series, this book brings together a host of knitting talent all inspired by the plays and poetry of William Shakespeare.
Advance praise for Defarge Does Shakespeare:
There is a lot to like about Defarge Does Shakespeare, and you can spend a great deal of time digging through this book…. It has a really distinctive feel that is different to many other knitting books I have seen, and it is unashamedly nerdy about William Shakespeare. If you know a literature student who loves knitting small projects, DDS would make a very thoughtful gift.
—Karie Westermann
Praise for previous books:
"This wonderful collection of essays provides a delicious narrative for the companion patterns, and the patterns bring color to the classic stories that inspire their design. Together, patterns and essays bring a fresh perspective on old friends, breathing new life into classics I thought I knew well. The patterns are wonderfully inspired, such that knitting and reading are brought together in a unique way where each adds depth to the other."
— Sally Holt, Managing Partner, Create2Thrive LLP
"Every time you wish for something in this book, it shows up."
— Dr Gemma, CogKNITive Podcast
Patterns:
Browse information about the patterns on Ravelry.
Designers:
Kate Atherley, Alex Aulisi, Cassandra Deavers, Becky Greene, Erica Hernandez, Becky Herrick, AnneLena Mattison, Jennifer Mauser, Wendy McDonnell, Heather Ordover, Laura Ricketts, Kathleen Rogers, Natalie Servant, Julia Temisevä, Diane Trap, Meg Warren
Photos by Caro Sheridan unless otherwise specified.