Therese Defarge has been maligned and misunderstood for over a hundred years. Well… maybe not entirely misunderstood. But knitters have been teased for being Defarge—like when found knitting in public, as though we were all rabidly waiting for heads to roll just because we were carrying pointy sticks. It's time to reclaim the Madame for our own–or at least get a great stole out of her memory. This pattern includes wineglass and trellis motifs (like a wine shop window) as well as long fingers that drape gracefully off the edges of the shawl. A ladylike ruffle adorns the top and lower edge of the shawl, reminding us that a delicate edge often hides a strong inner core.
Instructions for dip-dying the shawl are included below, with photos.
Designer: Heather Ordover with Wendy McDonnell
Finished Measurements:
Center panel B 45 inches wide, 16 inches high with one trellis repeat and without edging.
Center panel B with side panels (A) 71 inches wide, 16 inches high one trellis repeat and without edging.
Complete stole (with one trellis repeat) 20 inches high and 71 inches wide (edging choice will add to width).
Materials:
[MC] Schoppel-Wolle Zauberball [75% virgin wool 25% nylon; 800m/876 yards per 100g ball; color: plum sauce #1872; 2 balls (a little over 1000 yards used, total); 23 WPI]
40-60 inch length US #5/3.75mm circular needle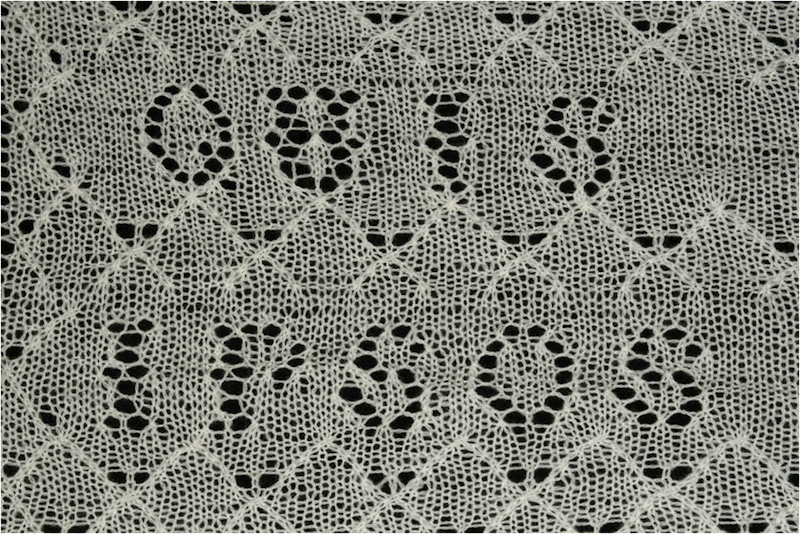 If you have the book, you'll want the link to charts too big to be constrained by a book.
Find a full-sized, adaptable alphabet from Schoolhouse Press and Bridget Rorem at Schoolhouse Press (pattern #9).
Instructions by Wendy McDonnell
Red for the blood that lavishly flowed through the streets of France, purple for the aristocrats who provided that blood, lastly, black for the death that followed in the wake of… La Guillotine. And all the while, Madame Defarge and Les Tricoteuses right there out in front, knitting the names of the doomed.
PREP WORK FOR DYEING
If you have never dyed before I highly recommend you watch a tutorial about dyeing with an acid based dye. Paying special attention to handling the dye in the process with use of gloves, masks, drop cloths, food prep areas, then the clean up with a 50/50 solution of bleach/water for your kitchen. Don't be intimidated, though. You can absolutely do this. Trust me, it's not as daunting as it sounds. For small amounts of dye, try KnitPicks.com or DharmaTrading.com.
These instructions will walk you through a three-tone dying adventure. For this stole we used red, blue, and black dye.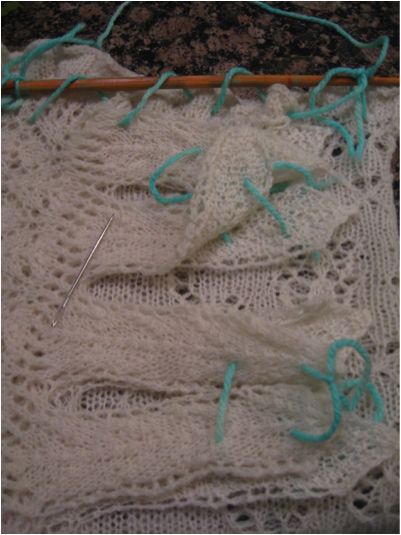 With the stole open and the words readable, bring the dagger points together to fold the stole in half then in half again. Whip stitch a scrap of sturdy woolen yarn through the top (the top ruffle plus the two new layers you folded up), going through all the folds and over a stick (from outside or a couple of chopsticks). This creates a fabric narrow enough to dip into a dyepot
Make sure it's loose enough for the dye to move freely between the layers, yet tight enough so that it will not fall off of the stick. If you keep your sewing straight you should get a hard line for the red to blue. Or you will have the "blood" curving through the street as you see in mine.
Whip stitch with large basting stitch through daggers 2 at a time, (oak leaf-4, 4, 3) both left and right sides and through the stole folds (see above photo). Sew these layers together to match the increments of the dye stages (in this case the stages were red, blue, black) so the daggers stay with their line of dye rather than dropping into a lower dye stage.
Tie another string on to the right of the stick then loop over to the left and tie off again on the stick, this is your hanger. A wire hanger would work too if it will fit in your pot.
This string (and stick) has to set into the pot at different heights while you are dip dyeing your stole so make sure you have a place to tie the handle off above the pot on your stove. For example, on your cabinet handle, hinge or vent hood, anything sturdy up above that you can loop a string over.
Soak your stole in a container overnight in a mixture of 3/4 room temperature water and 1/4 vinegar—enough to cover the stole without forcing it. Red dye is known for running which is why we use so much vinegar. You don't really need a large container for this, just large enough for the stole to move freely. We use a small plastic tote box.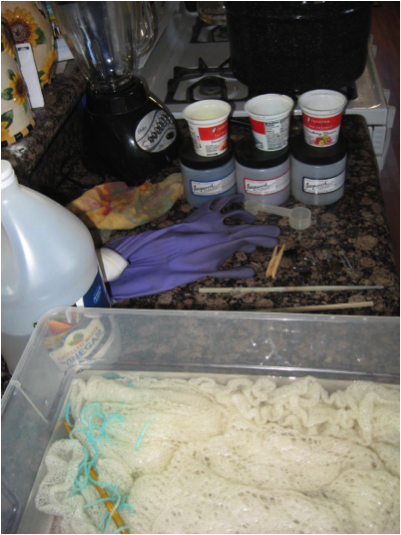 DIP DYEING YOUR STOLE
Wearing good rubber gloves, mix well, 1/2 tablespoon of an acid based red dye, such as Jacquard, with 1 cup of hot water. We use old yoghurt containers for this part of the process. Our red is Jacquard Fire Red #618.
Remove the stole from its soak and put the soak water into a large pot like a retired water bath canner (never again to be used for food) or some other old pot. Add another cup of vinegar to the pot and the red dye mix you made.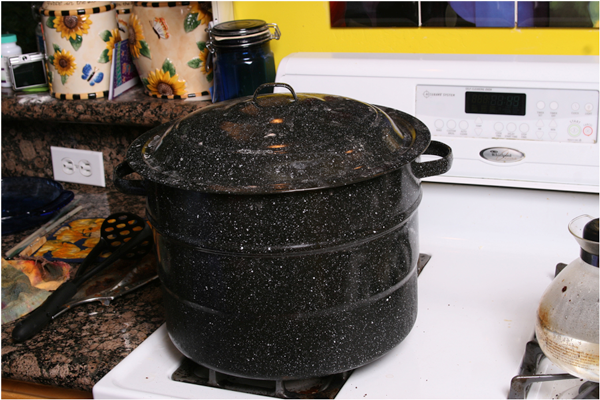 Place the entire stole into the red dye. Gently open the layers so that all of the yarn is allowed to come into contact with the color. Turn on the heat, bring up to a boil and immediately turn down to simmer on low for 20-30 minutes or until you are satisfied with the top edge color. Keep in mind that red is notorious for bleeding and that wet yarn reads darker so it might end up a shade or two lighter then the color it is in the pot.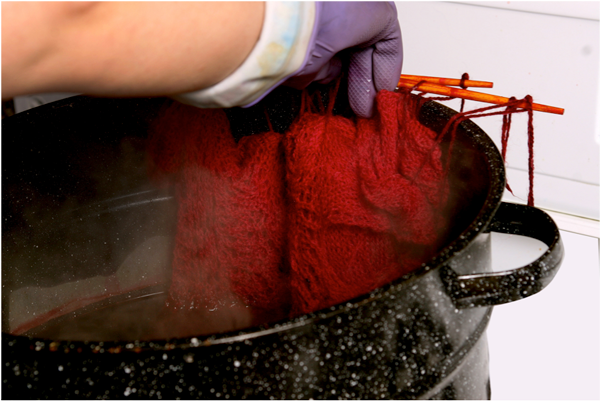 While the pot is simmering, mix well, 1/2 teaspoon of deep blue dye with 1 cup of hot water.
Pull the stole out about one third of the way and tie off. This is where ingenuity and string over a cabinet door can be used to help to hold the stole in place.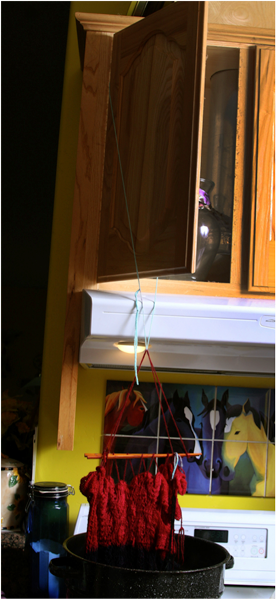 Add the blue dye to the red bath, ours is Sapphire Blue #622. Leave in for about 20-30 minutes. Still just a low simmer. Do not pour the dye onto the stole but into the water, stir well without agitating the stole. Make sure that all the yarn comes in contact with the dye.
Mix well, ½ teaspoon of black with 1 cup of hot water.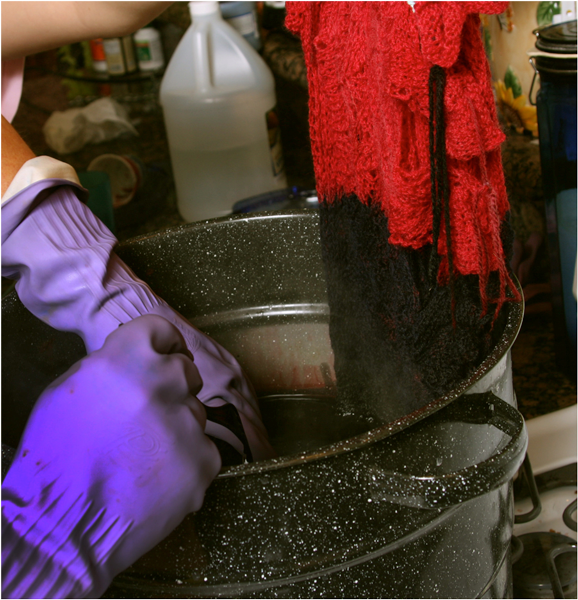 Pull the stole another third of the way out and tie off.
Add the black dye, ours is Jet Black #639, leave in for about 20-30 minutes. Make sure that all the yarn comes in contact with the dye.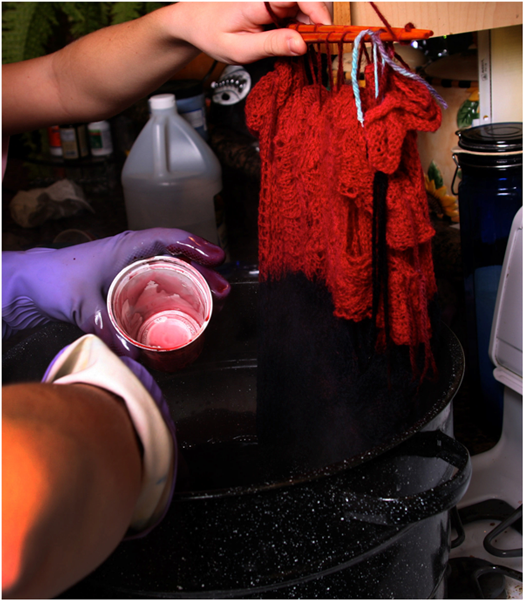 THE PERFECT ENDING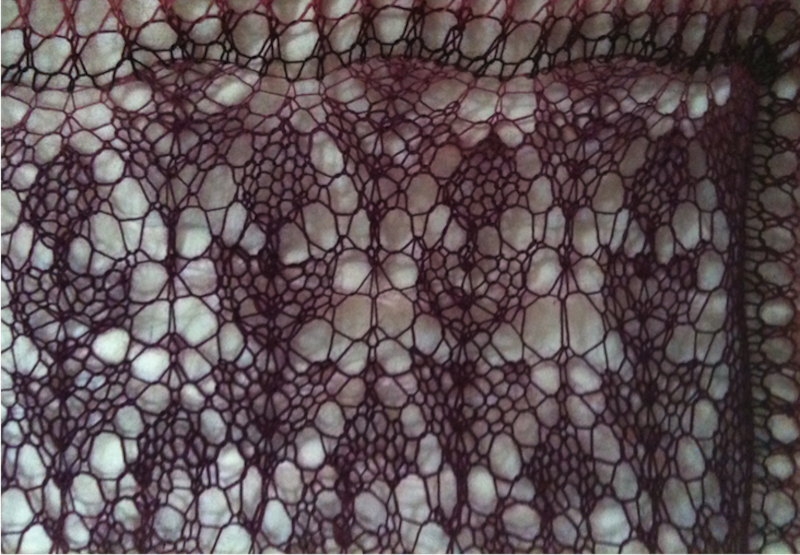 Remove the stole from the pot, cut all strings, and allow it to cool completely with little movement. When totally cooled off, place stole into a room temperature water bath, rinse till all excess dye is gone. If you experience red dye run off, drain water completely out of stole, place into bowl, pour straight vinegar over it until the stole is saturated, heat in microwave 1 minute, turn: continue this process until hot (this will depend on your microwave's strength–use your judgment and decrease cook time as necessary), allow to cool again. Wash with a hair shampoo and conditioner. I find that the Suave Kiwi will leave "pixy dust" behind if you don't rinse really well, a very nice touch at the end. Block and enjoy!